Finally I get to watch Liverpool in the EPL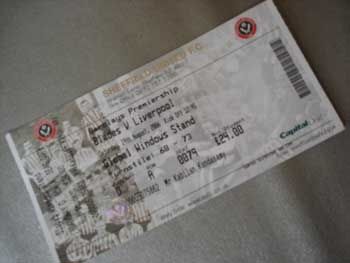 This, my friends, is the ticket for the very first English Premier League match for the coming season – Liverpool away to Sheffield United. Match starts at 12.45pm at Bramall Lane on Aug 19.
Finally, after waiting for years and after umpteenth attempts, I get to watch Liverpool play in a competitive game. I was quite apprehensive until I got my hands on the ticket this morning. Tickets for the match were only available from today and I was at Bramall Lane just in time for the ticketing office to open.
I know that this is my best chance of watching Liverpool as they visit Sheffield (and the stadium is just 20 minutes away for me) before I head back to Malaysia for good. And after standing in the queue for about 30 minutes, I walked out with the ticket in my pocket. What a relief!
I have seen Liverpool play before, but that's only during their Asian Tour in 2001. Apart from that, it has only been action in the telly, the internet and VCDs.
I have been to Anfield a few times. The last was in end April for Liverpool's last home game in the last season – against Aston Villa. Didn't get any ticket and more embarrassingly, got cheated by a tout and ended up watching the game in a pub. Still, was fortunate enough to soak in the entire match day atmosphere.
I have however watched a match in Anfield – when
England played Uruguay
in a friendly just last March. I was at the Kop stand, surrounded by more Liverpool supporters than England fans. They were singing Liverpool songs and cheering loudest when the Liverpool boys got the ball.
In 1999, in my very first visit to Anfield, we were offered match day tickets for the next home game against Southampton, which was two days away. The ticket was priced £20 but we declined as it meant we had to travel all the way to Liverpool from Stoke once again. That was one decision which I still regret as Liverpool went on to thrash Southampton 7-0 that day.
After that, in all my subsequent visits to Anfield, I had failed to get any tickets. So after years of waiting, you would understand my joy and relief in getting one today.
This almost completes a cycle – an almost maddening passion – to see Liverpool live in action. I said almost because now my next aim is to get that ticket at Anfield and watch them play at home.